Introduction to Lead
Let's start with the good news: lead poisoning is entirely preventable.
You've probably heard something about lead poisoning and probably something about lead-based paint. Thanks to the federal government's ban on lead in paint and in gasoline over thirty years ago, the numbers of people poisoned by lead have dropped dramatically. That's good news, but it's not the whole story.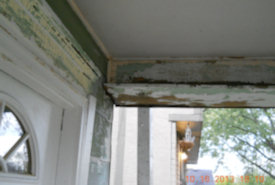 Lead is still all around us, in old buildings, in our soil, in workplaces and hobbies and in thousands of products we use every day.
The most common source of lead poisoning is at home, where people, especially children, unknowingly swallow and breathe fine particles of dust from lead paint. Lead poisoning damages children's developing brains and nervous systems, and this damage is permanent.
You can take many effective actions to protect your family from lead, even if you live in an old home. Many parents and professionals before you have investigated lead and have kept their families lead safe. Their experience and research are available to help you. And that is good news.
Throughout the site we've offered links to outside sources for more detailed information. Here are some sites that may be helpful to you and your family.
Disclaimer: The information contained on this site is provided for informational purposes only, and should not be construed as professional or expert advice. No recipients of content from this site should act or refrain from acting on the basis of any content included in the site without seeking the appropriate professional or expert advice.