Guidance and Resources
Where can you go for assistance?
If you are looking for advice on making your home lead-safe, your local health department is a good place to start. Most local health departments will provide printed information and discuss with you how to safely address lead hazards. You can also turn to the experts at the Ohio Department of Health Lead Poisoning Prevention Program at the Ohio Department of Health.
One resource that is often overlooked is other parents. The Lead Safe America Foundation is a nonprofit organization founded to provide emergency intervention and support to families whose children have been poisoned, outreach and education activities for lead poisoning prevention and parent-advocate support to help other parents.
OHHN may also be of assistance by providing information and/or local referrals to resources in Ohio.
How can you protect your family during renovation?
If a professional inspection or risk assessment indicates the presence of lead paint and/or lead paint hazards, you'll either need to use lead safe work practices whenever you undertake any repairs or you will need to ensure that any contractors working on your home use such practices. When lead paint is disturbed, lead dust is released. Even very small amounts of lead dust can create a lead hazard. While no federal or state law requires homeowners to use lead safe work practices, contractors working on homes built prior to 1978 are required to be trained and certified under EPA's Renovation, Repair and Painting (RRP) Rule. It is essential that lead safe work practices are followed during renovation to protect your family from lead. To find a certified contractor in your area, see the EPA's database of certified contractors.
What are some affordable ways to protect your family from lead hazards?
Clean Your Home Thoroughly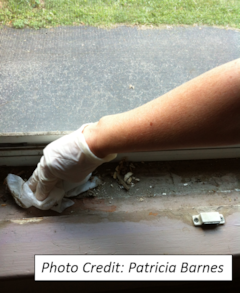 One low-cost way to protect your family from lead at home is to control lead dust through cleaning.
Look at your home from a child's perspective, and clean areas and items that children are likely to touch, i.e., the floor, baseboards, furniture and toys.
Clean the surfaces in your home frequently to remove dust especially on friction surfaces such as window sills, troughs, and screens, and around doors.
On hard surfaces, use damp mops and dust-cloths. Vacuum upholstery and curtains.
Use a vacuum cleaner with a HEPA filter that will trap fine lead particles and keep them from re-entering the air through the exhaust. HEPA Vacuums are available in almost every county through the Ohio Department of Health's HEPA-Vacuum Loaner Program.
Use doormats for wiping shoes and remove your shoes when you get inside. Wipe your pet's feet as well.
For additional tips, see a brochure on cleaning techniques from the Ohio Department of Health.
Practice good hygiene and watch nutrition
Good hygiene practices and nutrition can help protect young children from the harmful effects of lead.
Wash hands frequently to keep lead dust away from mouths and noses.
Wash toys and other objects frequently that lay on the floor or are used by children.
If you work with lead, for instance in remodeling, manufacturing or hobbies, keep your work boots outside the home, change your clothes and shower before hugging your children and keep your work clothes separate from the rest of the family laundry.
You can provide food for your family that reduces the amount of lead absorbed by the body. Foods with calcium, iron and vitamin C, and phosphorous and zinc are particularly effective.
Children's bodies absorb more lead on an empty stomach than on a full stomach so provide four to six small meals a day.
Cover bare soil with grass, wood chips, gravel or sand to protect children from coming into contact with lead-contaminated soil.
Plant gardens away from homes, and other painted structures that may contain lead paint, roads and driveways. Grow vegetables in raised beds with clean soil. Wash vegetables thoroughly before eating.
Be careful about lead in consumer goods and hobby materials
Many toys and common household items contain lead information about lead that can come off on your hands or in your mouth. Some materials used in hobbies, such as stained glass, involve working with lead. Some examples of ordinary consumer goods with unacceptable levels of lead in the past are holiday lights and ornaments and Mardi Gras beads. Listed below are examples of resources to help consumers learn about lead and other toxins in consumer goods:
HealthyStuff.org is based on research conducted by environmental health organizations and other researchers around the country. HealthyStuff.org includes test results for over 5,000 products.
Testing for Lead in Consumer Items for Children from the National Center for Healthy Housing discusses various types of tests available for testing consumer items, including XFP, color change and laboratory tests.
Environmental Working Group has easy-to-use guides to help consumers choose products and foods that are free of toxic ingredients, safe for children and environmentally friendly.
The Lead Safe America Foundation will test items you mail to them for free (you must include postage) using an XRF. LSAF is a nonprofit and they rely on donations to support this and other services.
Consumer Product Safety Commission (CPSC) provides information on consumer product recalls. Information, Regulation and Guidance about Lead in Consumer Products includes links to CPSC documents regarding lead in consumer products including Regulatory Summaries in Plain Language, Testing Laboratories & Methods, specific product information and more.
Disclaimer: The information contained on this site is provided for informational purposes only, and should not be construed as professional or expert advice. No recipients of content from this site should act or refrain from acting on the basis of any content included in the site without seeking the appropriate professional or expert advice.