About Ohio Healthy Homes Network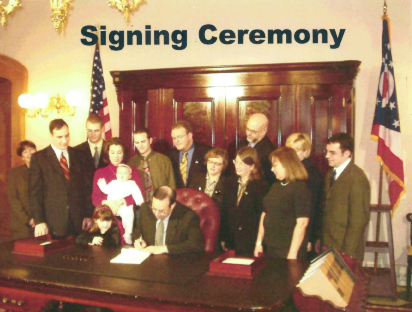 Ohio Healthy Homes Network (OHHN) is a 501(c)(3) nonprofit organization that promotes healthy homes and lead-safe environments for Ohioans. Our mission is to promote healthy, safe and affordable housing for people of all ages.
Help End Lead Poisoning, the forerunner to the Ohio Healthy Homes Network (OHHN), was created by Ohio State Legal Services Association in the early 1990's as an informal coalition of advocates in the legal, early childhood, tenant rights and housing fields to address childhood lead poisoning issues. The coalition worked with the Ohio Department of Health on a range of issues, including the state's lead contractor licensing law and improving Medicaid testing rates.
Coalition leaders incorporated Help End Lead Poisoning (dba HELP Coalition) in 1997 and received 501(c) (3) status in 2002. Early support came from the George Gund Foundation, the EPA and membership dues. HELP Coalition's mission was to eliminate the lead poisoning of Ohio's children through education, sharing information, developing public policy and mobilizing citizens. It's most important accomplishments include passage of Ohio's lead poisoning prevention law (Chapter 3742) and the integration of childhood lead poisoning data collected by the Ohio Department of Health and Ohio Medicaid program.
In 2010, the HELP Coalition reorganized and developed a new web site and resource directory through grants from the Ohio Attorney General and Ohio Housing Trust Fund. HELP Coalition delivered presentations throughout the state on lead-based paint hazards and healthy housing in 2011-12 to introduce the new resources available through the web site.
HELP Coalition changed its name in March 2011 to the Ohio Healthy Homes Network to reflect an expansion of its mission to focus more broadly on establishing and preserving affordable, healthy housing while continuing its work to eliminate childhood lead poisoning.
OHHN's expanded mission is part of a national trend led by the US Department of Housing and Urban Development (HUD) and the Centers for Disease Control and Prevention (CDC) to embrace a more comprehensive and holistic approach to the health of our nation's housing called "healthy homes".
Disclaimer: The information contained on this site is provided for informational purposes only, and should not be construed as professional or expert advice. No recipients of content from this site should act or refrain from acting on the basis of any content included in the site without seeking the appropriate professional or expert advice.